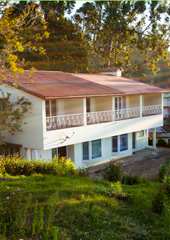 Lofty Meadows - Your Very Own Home Away From Home
Standing majestically on the southern end of Palani hills, Kodiakanal near Madurai, Tamil Nadu, India, offers amazing scenic beauty and a serene ambience to spend a few days of much deserved break. If you want to soak in the tranquility of the charming hill resort Lofty Meadows welcomes you to our homestay.
Lofty Meadows is different from most of the other hotels that dot the dazzling green hills of Kodaikanal. Unlike the bare walls and transitory environs of other hotels, the Lofty Meadows exudes an air of home-like calm and comfort. An ideal place for families and groups of friends to spend the short break from the mad rush of cities and towns, Lofty Meadows at Kodaikanal helps you to stay comfortably while giving you ample time to explore the lush slopes, or wander around nature's full bloom.
The English style heritage architecture at the home stay is reminiscent of an era gone by. With period furniture and wooden floors, the home stay takes you back in time. Very little has changed in the 90 years since it has been in existence and this is deliberate, so that distinguished guests can experience nostalgia and old-world charm of living in cozy comforts of a home away from home.
When you wake up to the unpolluted air and chirping birds in the morning, you truly feel one with nature. This is an exhilarating experience that is hard to replicate in the big cities and towns. The lush green Kodiakanal Golf Course is just steps away from the home stay and offers an endless expanse of greenery wherever your vision goes. The house overlooks the Green Valley, a stunning sight of Western Ghats and the Plains of Periyakulam and Vaigai Dam. Lofty Meadows is worth experiencing Heritage home stay in Kodaikanal, India.
Bought by Mr. V.A. Kurien in 1988, this property still maintains its aura of the 18th century. We offer Bed and Breakfast accommodation in Premium Rooms, Royal Suites and Little Cottage. Indulge in the misty peace of Kodaikanal by availing of the cozy stay at Lofty Meadows.
Sublime beauty at its finest; experience Kodaikanal like never before only at Lofty Meadows Home Stay.